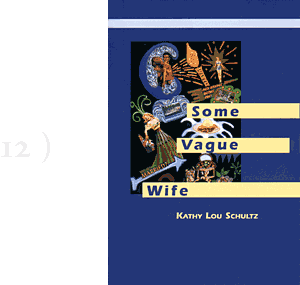 Some Vague Wife, Kathy Lou Schultz's third published volume of writing, was written specifically for Atelos and with Atelos's stated interest in "crossing traditional genre boundaries" in mind. Ostensibly divided into three sections and three genres ("Songs," "Stories," and "A Novel"), the overall composition of Some Vague Wife in fact brings about a convergence, though one that is more disrupted than a fugue, and certainly less "classical." Perhaps what's compositionally at work is achieved through decomposition - of body into love, of sentence into energy. "If I put my finger in your ear the sounds emanating from your head indicate signs of life."
Kathy Lou Schultz was born in Burke, South Dakota in 1966. She grew up in central Nebraska, which she left when she was 18 in order to attend Columbia University. She completed her undergraduate degree at Oberlin College, a first-generation college graduate, and went on to San Francisco State University, where she received an MFA in poetry and American literature. Her first collection of poems, Re dress, won the Michael Rubin Award from San Francisco State University and was published as The 1994 San Francisco State University Chapbook. Robert Glück has said of Kathy Lou Schultz's work, "Schultz writes about love, work, and physical life in a time when hope is qualified and nothing is normal." And Myung Mi Kim has remarked that Schultz's work allows "restraint and freedom to coincide in the work of pressing the problematic of sexual and class identity, reconfiguring woman as an open book." Kathy Lou Schultz's poetry, experimental fiction, and critical essays have appeared in a variety of influential journals, and her second collection of poetry, Genealogy, was published in 1999. She is currently pursuing doctoral studies in literature at the University of Pennsylvania, where she also co-edits the literary magazine Lipstick Eleven. "I build a city on imagination," says Schultz. "Next door, an empire."
You can buy this book online from Small Press Distribution!