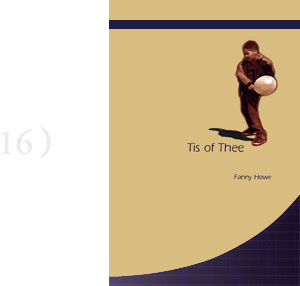 With figures X, Y, and Z, Fanny Howe constructs "a repressed but emotional history" of encounters and unions between races, classes, genders, and epochs. Considering race as "the most random quality assigned to a soul," Howe has undertaken an (American) history of a racially mixed population. Tis of Thee is a theatrical work originally written as a series of poems in voices — voices originating in the intimacies and ruptures of the inter-. In Howe's text the story of two interracial love affairs concerns both the dialogic and the prophetic: "X: and Z: Any discussion about race is really a discussion about the creation of the universe." The work bears evidence to many creative unions as well: with Ben Watkins, who provided the photographs; with graphic artist Maceo Senna, who illustrated the text; with Nya Patrinos, set designer, video artist, and director of the original production; as well as with composers Miles Anderson and Erica Sharp, whose score adds another voice to the spoken three. The text includes a CD recording of the work, originally performed at the Porter Troupe gallery in San Diego, 1997, with Paul Miles (X), Stephanie French (Y), and Andre Canty (Z).
Fanny Howe is the author of numerous books of poetry and fiction. Among the most recent of her publications are Economics (Flood Editions), Gone and Selected Poems (both from the University of California Press), One Crossed Out (Graywolf), and Saving History and Nod (both from Sun and Moon). Born in Buffalo, New York, and brought up in Boston, Howe attended Stanford University. She has been a recipient of the prestigious Lenore Marshall Award from the Academy of American Poets, as well as a Commonwealth of California Award, a National Poetry Foundation Award, and two Fellowships from the National Endowment for the Arts. She taught for thirty three years and now lives in New England.
You can buy this book online from Small Press Distribution!